Portland, in the United States, is a great study option for international students interested in studying abroad in the U.S., but also an excellent alternative destination for those unsure about the opportunities of the American higher education system
Whether you are interested in getting a bachelor's degree to begin your higher education or are planning to get a master's degree to improve your career path, Portland is a great place to start.
So here is a list of the best colleges and universities and it can help you to search in the best colleges. Hope so your career, skills and dreams complete. All the best!!
University of Portland
Formally founded in 1901, the University of Portland is a highly rated private institution. It has a total undergraduate enrollment of 3,788, its setting is urban, and the campus size is 108 acres. It utilizes a semester-based academic calendar. The university organized with schools in arts and sciences, business, education, nursing and engineering, offering over 40 undergraduate programs with 36 minors, as well as 16 graduate programs.
Also Read: University of Portland Acceptance Rate
Portland State University
Charted in 1946, Portland State University an elite public institution located in downtown Portland. The university is focused on the aim to you put the knowledge to work. The university provides a wide variety of accommodation options to students, and there are more than 100 student clubs and organizations on campus. The acceptance rate of the university is 92%. The university offers undergraduate and graduates course work in various fields of studies such as Liberal Arts and Humanities, Psychology, and Public Health.
Reed College
Open its doors in 1908 in southeast Portland, Reed College, a highly rated private institution with a big intellectual and reputation and unconventionality that match its home city. The college offers 40 majors, 15 of which are interdisciplinary. Undergraduate students may be enrolled in five-year dual degree programs, a liberal arts degree at Reed in three years and a specific degree at an associate institution in two. Residential life in Reid is broken up in the neighbourhood, although many upperclassmen prefer to live in closed premises in Portland.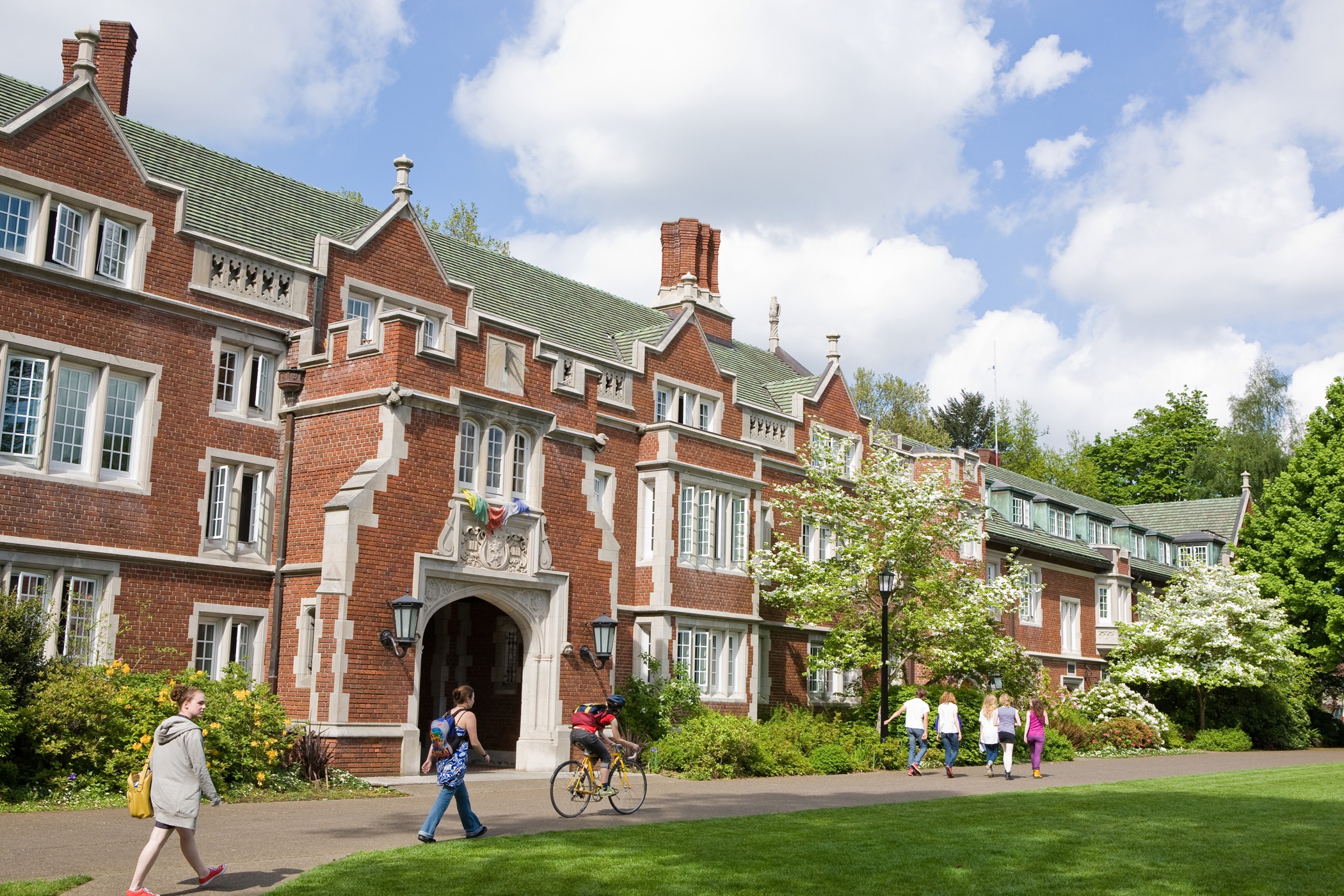 George Fox University
George Fox University was formally constructed in 1891. It is a multi-diverse private institution that offers bachelors, masters, and doctoral degrees, in popular majors such as accounting, applied science, art, athletic training, biochemistry, psychology, social work, business, education, counselling, physical therapy and seminary. The composite SAT score range from 1050-1270. The alumni salary after the university is around $89,600.
Pacific University
Founded in 1849, Pacific University is a highly rated private liberal arts school. The university comprises of colleges for arts & sciences, business, continuing education, health professions, education, and optometry, which offers six graduate and professional programs. The university focus on teaching and learning in a close nurturing environment leads to genuine transformation in students' lives.
Multnomah University
With the origin dates back o 1936, Multnomah University is a multi-diverse private institution located in Portland, Oregon. The university offers undergraduate and graduates in popular majors such as Biblical Studies, Religious Vocations, and Business. The student needs to have SAT Graduating 32% of students, alumni of the university earn a starting salary of $ 29,800.
Pioneer Pacific College
Pioneer Pacific College is a private institution. The atmosphere is so friendly and informative. Admissions specialists help you identify the program that best matches your goals, interests and lifestyle. Students can earn degrees and certificates in six different fields. Popular majors are available in the business, management, marketing, and related support services, health professions and related programs and legal professions and studies.