Being America's, Delaware is known for its history of higher education dates back to the 1700s. It has a thriving economy, which can come as a big benefit after graduation and is looking for a job and career point of view.
The state might be small, you can count it out of your college decision. Explore the options and compare the best colleges and universities in Delaware for your degree programs with our free database of college statistics.
All the best!!
University of Delaware
The University of Delaware is the largest university in Delaware. It is a public research university. The university offers associate's programs, bachelor's programs, master's programs and 55 doctoral programs across its eight colleges. The university has four campuses. According to U.S. News & World Report, it ranks for the undergraduate program for 91st among "national universities" and tied for 39th among public universities. The university offers scholarship programs for international students.
Delaware State University
Charted on 15 May 1891, The Delaware State University is a highly rated public institution that offers undergraduate degrees, five doctoral degrees and several cooperative degree programs. University's 83 per cent of students receive scholarships, grants, loans or work-study income. The university has two campuses one in Wilmington and one in Georgetown. University encourages all applicants to apply for scholarships and based upon academic achievement, financial need, group affiliation or some combination of these factors.
Wesley College
Established is 1873, The Wesley College is an American private liberal arts college in Dover. The university offered professional studies includes degrees in law, physical therapy, nursing, accounting and business administration. University provides financial assistance for students pursuing higher education through its Scholarship and Loan Programs. The living expense budget to go to Wesley College is $42,248 for the academic year.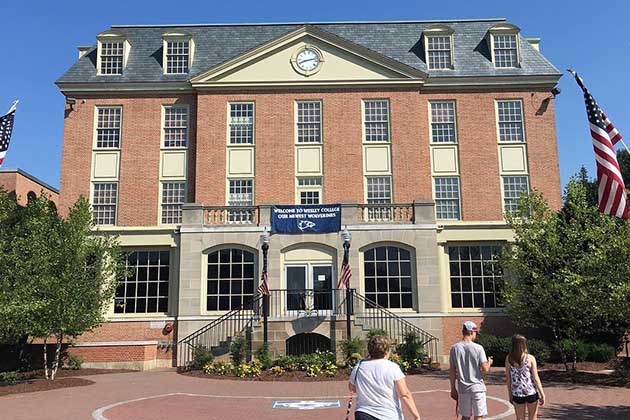 Goldey-Beacom College
As a Private university, The Goldey–Beacom College provides graduate and undergraduate degrees including in psychology, economics, business, information systems and finance. At college committed to making quality education affordable for all students, the university offers scholarships. TOEFL IBT minimum 60 IELTS band score a minimum of 5.5 and SAT, or ACT scores are required for students.
Wilmington University
Founded in 1968, The Wilmington University located in New Castle, Delaware. The university offers graduate and doctoral degrees and certificate programs in seven academic colleges. At university committed to helping students achieve their higher education goals and several scholarships are awarded annually. The university also offers many internship opportunities for international students.
Delaware Technical Community College – Terry
Delaware Technical College is a public community college in Delaware. The college offers 100 associate degrees, diploma and certificate programs in the fields of Computer Technology, Agriculture, Business, Culinary Arts, Health and Science, Engineering. The university offers scholarships for applicant's financial support. University Career Services is to help students plan your future. On-campus living cost for students is $18,650.
Strayer University – Delaware
The University of Strayer is a private, for-profit university in the United States. University offers undergraduate and graduates degrees in criminal justice, accounting, business administration, information technology. The university offers scholarships for students based on academic performance. University provides a variety of career opportunities spanning from Campus Academics, Corporate and jobs.
Widener University
As a private university, The University of Widener offers associates, bachelors, masters, and doctoral degrees in traditional areas liberal arts to professional programs. The university has three campuses two in Pennsylvania and one in Wilmington. The university also provides a merit-based scholarship for students, and the amount is $100,000. Student can take internship opportunity provided by the university. University helps the student help find the career path. On-campus housing rent is $7,300.
Lincoln University
Established is 1854, the university offers 38 undergraduate majors and 23 minors programs. Admission requirements for students are TOEFL score of 46 with at least 18 in Writing and IELTS score of 5.5. University Internship Services is to engage students in planned, practical, educationally experiences in professional, work-related that relate to complement students academic and career goals. On-campus living expenses are $25,682.
Neumann University
The University of Neumann is a private Roman Catholic liberal arts college. The university provides bachelors, masters and doctorates degree programs. University offers many scholarships awards for students Academic, Presidential and other achievements awards. The university internship opportunity provides for students to gains professional work experience. The annual living cost for students is $34,598.