Getting a desired overseas job is exciting and nerve-testing at the same time. The students aim to land their dream jobs immediately after completing their studies. Often, the candidates have to appear in several interviews.
The overseas interviews require vigilance to qualify. In many cases, individuals deem it stressful. However, proper preparation will enable you to keep nervousness or anxiety aside. Following are the top questions in an overseas job interview. These questions serve as guidelines to help you succeed in your prospects. 
1. Introduce Yourself
Whether you appear for a meeting in your own country or a foreign location, this one question is of high significance. Through this question, the interviewer tries to test your confidence. To answer this question, you need to keep in mind the company's details.
Preferably, you give them a quick overview of your academic background, your work experience and some information about the family. Do not discuss personal details. The interviewers evaluate you on the bases of your professional skills that are relevant to the job requirements.
2. What Are Your Positives and Negatives?
This is the second most important question that helps interviewers to assess your skills needed for the job. Also, they try to gauge how do you interpret yourself. The questions may be tricky, but apt reply may enhance your chances to have a successful interview.
Your confident gestures will create a positive impact on the interviewing panel. Before appearing for an interview, conduct a thorough research about the job description. You must speak about your skills relevant to the job description.
For instance, depict yourself as an excellent communicator, leader, and analyst if the interview is for the marketing manager position. However, talking about weaknesses may be tricky.
Share your shortcomings that do not relate to the job description. Importantly, your fault should sound minor. Even try to give that a positive touch. Also, explain to your interviewers that you are working to overcome your shortcomings.
3. Describe Your Last Job or the Current Job
This is a vital and obvious question during an interview. The purpose of this question is to evaluate your overall behaviour, professionalism and maturity level. The interviewers seek to appoint individuals with relevant experience.
For example, if you are switching your job due to the unpleasant environment, do mention it in the interview. Convey to the interviewers that you want to grow professionally, that is why you want to join this organization.
Try to highlight the positive aspects of your last employment rather than speaking negatively about it.
4. Why Do You want to Relocate Overseas for This Job?
If you reply, the pay is good, and it won't be the right answer. Any answer that indicates the materialistic approach may lessen your chances to get the job. Ideally, you should explain how this job will enhance your learning about new things.
Come up with the viewpoint that this job will help you grow professionally. In other words, describe that the primary motivation for moving overseas is the job description itself and your passion for contributing to the organization.
5. Why Should the Company Hire You?
The appropriate answer to this question may play a decisive role in your selection. So, prepare well for this specific question as this might turn out to be a tricky one. To answer it, you should recall some of the answers that you have already given.
Specify your strengths pertinent to the profile. Also, tell the interviewer how you could make a valuable contribution as an employee. Convey your message effectively and discuss all your strengths and capabilities confidently.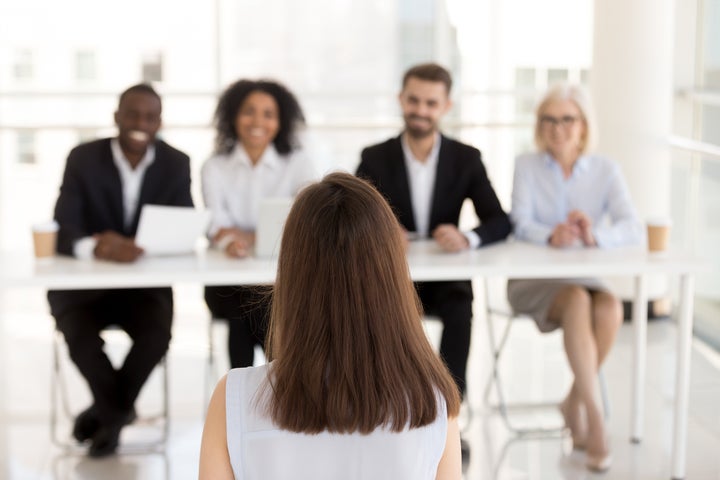 6. What Will Be Your Position in the Next Few Years?
Many interviewers do not ask this question expertly. Sometimes they can't express their thoughts even though they have clarity in their mind. The purpose of asking this question is to know how future-oriented you are.
When you answer, demonstrate your knowledge about the current industry trends. You should reflect on the dynamics of the industry in the future and how you would deal with them.
7. What Is Your Management Approach?
You need to convince the interviewer about your flexible approach. Give a few examples to validate your point. Explain to them the instances when you effectively managed your team. Your discussion should give them an idea that you can coach people.
8. How Will You Cope with the Overseas Work Environment?
Think before answering this question. The interviewer or the interviewing panel is trying to find out how you can adjust in the multicultural environment. Let them know that you are very well aware of the culture of the new country. Show your proficiency in the native language. Demonstrate your interpersonal skills when you complete your answer.
9. Give Honest Answers to Some of the Subjective Questions
When you think about top questions in an interview, interviewers ask some subjective questions. How do you handle the pressure? When can you join us? In your view, what is your most significant professional achievement? These are the questions that do not have a set pattern for answering.
Every candidate may respond to this question differently. Therefore, respond with a balanced approach and quote examples from your previous work experience. Interviewees may not be honest all the time to answer these questions. However, they can tactfully handle them with preparation or presence of mind at the spot.
10. When Do You Think You Can Get Your Work Permit?
This question may initiate a discussion between you and the interviewer. Getting a visa, work permit and a ticket to the new country is expensive. Ask the interviewer if the organization is sponsoring it? If this is the case, then ask if it will be a complete or partial sponsor? You need to clarify any ambiguity about visas or work permits.
Are These Questions the part of every Overseas Job Interview?
Yes! The interviewers tend to include these questions in almost every overseas job interview. They want to have an overview of your personality, academic and professional career. So, it is worthwhile to familiarize yourself with these frequently asked questions.
Before appearing for an interview, you can practice these questions so that you do not have any hiccups during the question-answer session. If you master these common questions, you will be able to attend the interview with full confidence.
When you show confidence in the interview, the interviewers get an impression that you can do the job effectively.
Concluding Thoughts
Finally, landing a reasonable overseas job is like a dream come true. The interviewers evaluate the capabilities of candidates on the bases of some typical questions. If you prepare thoroughly and reply to those questions confidently, the chances of your success will be higher.
Before the interview, conduct a thorough research about the job description and the company profile. You need to demonstrate interpersonal skills so that you could convince the interviewer that you deserve this job.