Vermont is a city that is packed with vibrant atmospheres! The metro area of ​​Vermont has several institutions, including public schools and liberal arts colleges. 
The state has various opportunities and choices that do not matter your situation, if you want to go to school, you can. To cultivate such a definitive list, we examined the educational status of each college and university in the state.
Go through our whole list and unlock your career opportunities with one of the best institutes. All the best!!
Middlebury College
Established is 1800, The University of Middlebury College is a private institution and a leader in language instruction and global studies. The college provides eight academic departments and three educational programs. And available courses are Computer Science, Biology, Chemistry & Biochemistry, Geography, Molecular Biology, Environmental Studies Program, and Mathematics. University offers merit and need-based scholarships. The annual living expense budget to go to Middlebury is $71,980.
University of Vermont
As a public research university, the University of Vermont comprises seven undergraduate schools, an honours college, a graduate college, and a college of medicine. It provides a need-based scholarship for international students. It offers bachelor and master degree in various subject areas. It has more than 100 student clubs and organizations. It is known as the among the oldest universities in the United States.
Also Read: University of Vermont Acceptance Rate
Castleton University
Castleton University offers more than 30 undergraduate programs, as well as master's degrees in education and accounting. The courses available in the university are Business Administration, Athletic Training, Biology, Archaeology, Geography & Applied Anthropology, and Computer Information Systems. International students must demonstrate proficiency in English as one of the admissions requirements for undergraduate admission and a minimum score of 65 IBT on the Test of English as a Foreign Language TOEFL is required for all applicants.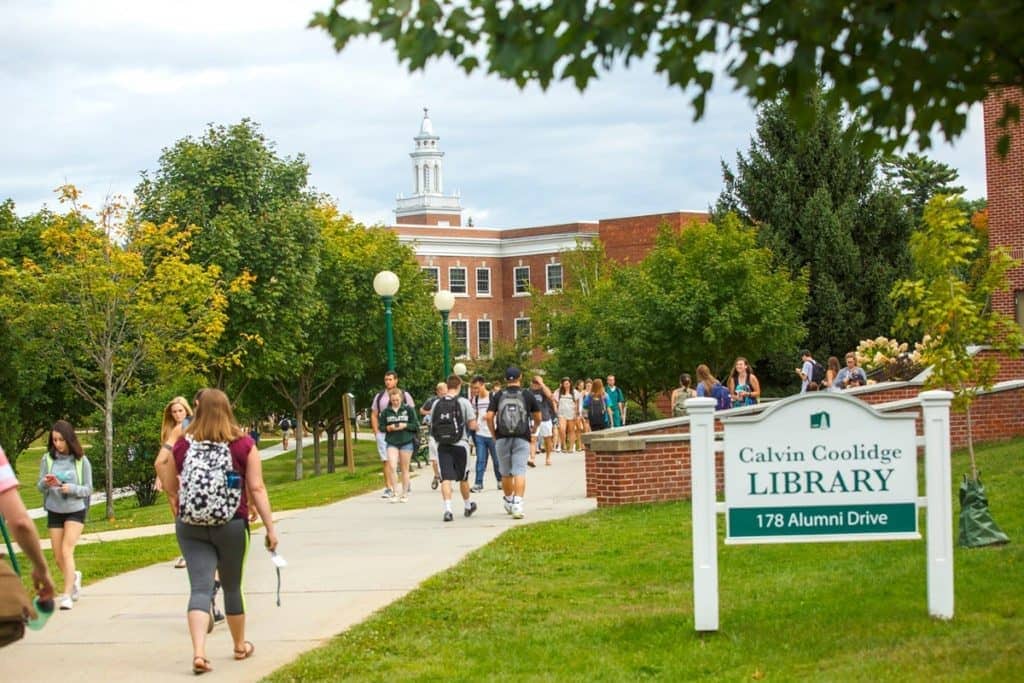 Vermont Technical College
Vermont Technical College is a public technical university in Vermont with its main campuses in Randolph Center, Norwich, nursing campuses in six locations throughout the state. The university provides courses are Nursing, Radiologic Science, Respiratory Therapy, Veterinary; Accounting, Agriculture and Animal Science, Civil and Environmental Engineering Technology.
The annual university scholarships are given sponsored each year by students. Who support our students attending Vermont Tech? Our goal is to launch our bachelor's into great careers with top employers.
Landmark College
The Landmark College offers associate and bachelor's degree programs in the liberal arts. And available courses are Entrepreneurial Leadership, B.S. in Computer Science, A.S. in Computer Science, A.A. Business Studies etc. The university offers scholarships of up to $30,000. The undergraduate estimated fees at college are $58,927. The university is continually growing its on-campus internship program to provide students with professional opportunities right here. 
Champlain College
Founded in 1878, Champlain College is a private institution. The university offers on-campus undergraduate and online undergraduate courses with an online certificate and bachelors programs and master's degree programs. The programs are available in more than 80 subject areas. Applicants will be reviewed for a variety of institutional scholarships that recognize higher academic winning, student's financial need, or both.
Norwich University
Founded in 1819, Norwich offers substantial online distance graduate programs. Bachelor's degrees are provided in Communications, Criminal Justice, English, History, International Studies, Political Science, Psychology, Spanish, Studies in War & Peace, and Education. University scholarships are an award on a funds-available basis, at the time of admission, based on academic performance. The annual living expense budget to go to is $58,054 for the academic year.
Bennington College
The Bennington College offered master's degrees: MFA in Writing, MFA in Dance, MFA in Music, and Postbaccalaureate Premedical Program, etc. The average university GPA of 3.5 for accepted first-year students. The university offered the Field Work Term annual internship program that allows students to gain professional experience beyond the classroom before graduating. In Bennington, a student spent is $8,150 for housing.
St. Michael's College
Saint Michael's College (St. Mikes or Saint Michael's) is a separate, Roman Catholic, liberal arts college in Colchester, Vermont. The university provides Undergraduate programs include over 30 majors and three master's degree programs, Education, Clinical Psychology, and Teaching English as a Second/Foreign Language. The Scholarship is a special award reserved for Vermont's top students attending university. Awards begin at a minimum of $15,000.
Marlboro College
Established is 1946. The annual living expense budget to go to Marlboro College is $56,458 for the academic year. Scholarships range from $5,000 to $15,000 per year. By integrating academic work, learning in the community, and career planning students think holistically about a well-designed future. The student is a great way to gain work experience and get involved on campus while earning money. You might become a language tutor, Citizen Staff writer, admissions tour guide, or theatre tech assistant.