Considering studying abroad in the United States? But confused to choose the best college for you, to navigate the path here we have a list of best colleges and universities in the USA.
Explore the list of top colleges in the USA below to get your college search started. Our list will help you to compare USA colleges that what college or university is perfect for you. All the Best!!
Princeton University
Founded in 1746, Princeton University is a highly rated private institution. At the university students can choose bachelors and masters degree programs from among 72 departments and interdepartmental programs. The university offers amazing scholarships and financial aid packages to both national and international students to meet the financial need by giving out more than $161 million in grant and scholarship aid.
Harvard University
Harvard University claims to be the oldest university of higher secondary education in the USA that was established in 1636. Study at Harvard is the dream of every national and international student. Students have the various option from 50 undergraduate colleges spanning arts and humanities, engineering, applied sciences, sciences and social sciences.
 With more than 400 diverse student organizations on campus, students can choose from a wide variety of activities at the university. Along with other facilities, Harvard provides much financial aid and scholarship options for students.
Also Read: Best International Scholarships at Harvard University
Stanford University
Founded in 1885, Stanford University is a highly rated private university. It is one of the world's leading research institutions known for its STEM, business and law programs with a rich tradition of fostering creativity and the arts. The university has 18 interdisciplinary research institutes and seven schools. The university has produced a great number of leaders in all fields. Stanford also motivates aspirants to take diverse, interdisciplinary approaches to learning.
Also Read: Stanford University Online Certification Courses
Yale University
Opened its doors in 1701, Yale University is a diverse private institution. The university has more than 800 study labs in the field of research, science, math and labs. Student life at Yale is similarly rich, reflecting the diversity of cultures and nationalities on campus. Students have options to select majors available in the field of history, political science and economics. Yale offers affordable education to all students regardless of citizenship, with approximately $ 160 million in financial aid.
Massachusetts Institute of Technology
Established in 1861, Massachusetts Institute of Technology is an elite private institution based in outside Boston in Cambridge, Massachusetts. MIT confers degree programs in many disciplines, although its mission statement emphasizes science and technology subjects. The university also guarantees that all students with a family income of less than $ 90,000 can participate in tuition-free. However, college life at MIT is not all about the study; there is a rich centre for the arts, with more than 500 student organizations.
University of Pennsylvania
With origins dating back to 1746, the University of Pennsylvania is a highly rated private institution. The university considers itself to be the first university in the US with both undergraduate and graduate studies. The average high school GPA of the needed for new class admission to the university was 3.9 at 4.0. College life at Penn provides an opportunity to discover new interests and passions, through a wide variety of social, political, religious and cultural activities. Penn alumni go on to earn a starting salary of $68,100.
Columbia University
Charted in 1754, Columbia University is one of the world's most renowned research centres located in New York City on Broadway, Columbia. The university offers programs in education, health, leadership and psychology that are among the best in the country have global research outposts across the world.
It is a top choice for students who want high-academics and robust social life. The university is home to the neo-classical Butler Library, one of the largest buildings on campus, and about two dozen graduate hostels.
Also Read: Best International Scholarships at Columbia University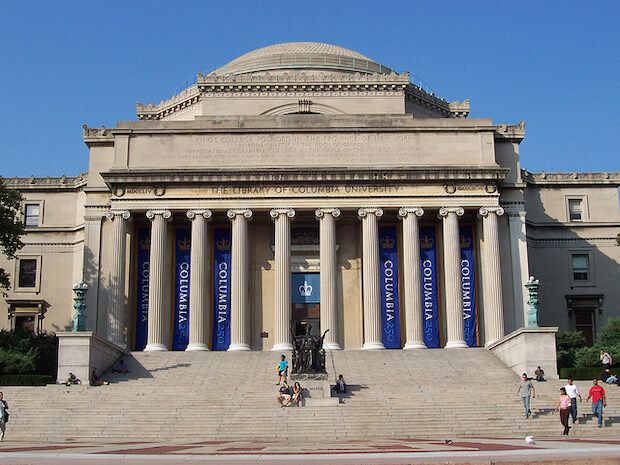 Duke University
Located in Durham, NC, Duke University is one of the wealthiest private institutions of research that combine academic excellence with top collegiate sports teams. The university has more than around 600 student organizations, from culture and different groups to Greek life. The university provides studies in the popular majors in arts and sciences, business, divinity, engineering, law, public policy, medicine, and nursing.
Also Read: Best Scholarships for International Students in the USA